AUCTION MANAGEMENT and CUSTOMER RELATIONSHIP MANAGEMENT for AUCTION COMPANIES
Tread4 in conjunction with Soleran, Inc. and the eAppTrack platform have designed our solution to offer fast, efficient auction management and customer relationship marketing.  We are a Cloud based solution giving you access any where you have internet connectivity; from your laptop, smartphone or tablet.  We can mirror your process from "Soup to Nuts" or simply focus on integrating with an existing auction management system and providing powerful CRM capabilities.  Visibility in all aspects of your auctions.  We start with Pre-Registration Marketing through Post Settlement and everything in between!
Dashboards
A clear visual taking the pulse of how your organization is performing!  Calendar, Tasks, Performance Graphs, Mini Reports and so much more!  You can have multiple dashboards with distinctly defined information coupled with our powerful Report Engine.  Our system is designed for efficiency and simplicity!
Buyer / Seller Module
Track every touch with your Buyers / Sellers.  Track what they purchase and for how much.  Target your buyers based on your incoming inventory and their historical purchases.  Group your Buyers / Sellers by any criteria you wish; Locations, Size, Average Items purchased or sold and of course….much much more!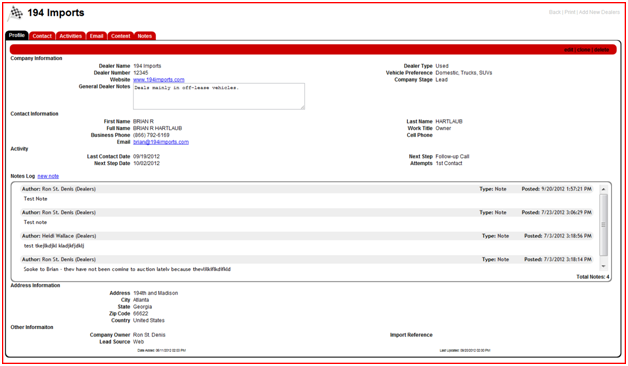 Item Profile
With our completely configurable platform, you decide what your sale item profile looks like!  Multiple types?  No problem! We will tie multiple types to our "ON THE BLOCK" transaction capability.
Sale Item Views
Our simple, efficient and effective approach to slicing and dicing the data YOU want to see allows each user to define their own view.  You want to see data in an order that promotes productivity for you…your colleague may want to see it differently.  All capabilities are inherent within the system.  Flexibility is our focus.  Automation is our business.
Transactions
Whether you have an existing system or go "all in" with ours…we can track transactions and give you the speed and flexibility to target your buyers and sellers on any criteria you would like to track! Pin point who you should have at your auction to drive up the bid price.
Follow-up List
Customer Lifecycle Management is where we got our start.  A 360 degree view of what's happening with your buyers and sellers.  Who to call…When to call…Who to visit…When to visit…What did I talk to them about…What did my colleagues talk about…One Central Point…Everything you need is a click away!
Reporting
Our powerful reporting engine gives you information you need in a format that you want to see it!  Fast, Easy, Flexible and Efficient….Simplicity!  Seems to be a common theme…yes?
Marketing Emails with Click-thru Links and Pulling System Fields

Mass email…Targeted Campaign (Drip Marketing) Automated!  That's Right!  Work smarter, not harder.  Let our system do the work while you focus on your customer's experience!  Up to 5k emails…per day/per user.  Nobody offers that within their system.  We even have additional tools that will track who visits your website, when they visit and what they are interested in based upon the pages they visit.  eNSite is a powerful marketing tool that gauges the effectiveness of your marketing and messaging.  Think about how great it would be to see the effectiveness of an email campaign in real time.  Yep, we offer that as well!
Registration
We offer registration services for both buyers and sellers.  We can give you barcoding/QR coding so your sellers can appropriately identify the key features of their item and provide that information to the seller with a simple Smartphone/Tablet click of their camera.  How powerful is that?  We can also Queue items for your sellers so they are notified when an item of interest is ready to go "On The Block".You may ask about Settlement.  We have that covered!  Settlement can be cumbersome.  Your buyers and sellers don't want to spend time with the details.  They would prefer a simplified experience and less paperwork.  We thought about that as well.  Our system brings an efficient, time saving approach to the settlement process.  A few signatures and "OUT"!
Post Settlement
We track your vendors post sale.  Whether it's a tax concern, transporting the purchased item or professional services that are needed after the purchase; we can help you assist your constituents and give you that information, first; to allow you to provide the best possible customer experience.  Second; allow you to track all transactions…why does that matter?  If you can provide all of the information wrapped around a transaction….YOU WIN!